BMRE September 2003 News and Results

(9-7-03)SLINGER SPEEDWAY Race of champions night at the Speedway,and Champion
and BMRE look like they'll go together well in 2003 as Brad starts the night with fast time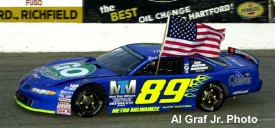 turning a 11.329,following that up with a Fast Dash run of 8th.In the 60 lap main,the 89 car
developed an oil leak and was black flagged from the event,but the crew worked on the
car for the nightcap,a 30 lap Race of Champions which Brad took 5th place after his worst
of the year 19th in the main.Watch for news on end of year specials right here!!

(9-10-03) Bradley Mueller,CEO Of BMRE has announced he will be racing the DELLS Special
this friday and saturday in the Pathfinder house car,sunday at SLINGER and next weekend he
will haul out the hemi for the Sunoco Super Series races at Rockford Speedway.See ya there!!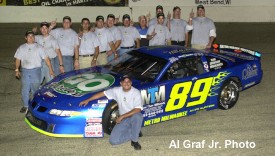 (9-14-03) SLINGER Speedway. Team BMRE,the Blue Bullet,and of course,Brad Mueller did
what they had to do this sunday to nail down Brad's first championship on the tar.
He started out the night with fast time(11.359),a 8th in the fast dash,and in the 75 lap main.
drove to a 5th place finish and a 1082-964 final point standing for the 2003 season,
Thanks to our sponsors and fans for a great 2003 season!!!
Watch for our end of season plans and our 2004 season plans right here on bmre89.com

(9-21-03) Rockford Speedway. Sunoco Series National Short Track Championships,Brad hauls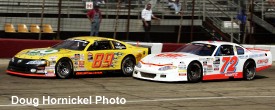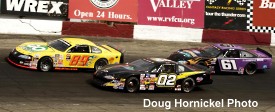 the ole yeller Hemi to the 1/4 mile,and in typical Rockford Racing it was follow the leader,and Brad
started 4th and finished 4th in a good solid run in the Go Wireless Dodge.

(9-23-03) Random Lake,USA. Brad has his fall plans set..and it isn't watching the leaves turn to red.
He will be racing the DELLS this friday,next week at LaCrosse for da Octoberfest races,and he will
make the 9 hour trek south to Nashville for the north vs south All American 400 Oct. 18th.

(9-26-03) DELLS Motor Speedway Has Cancelled the 250 Lapper 'til 2004....Octoberfest Next