May 2003 News and Results

(5-4-03) Slinger Super Speedway. The first weekly racing program of 2003 is a repeat of the opener,
FAST!!! Brad starts out touring the 1/4 mile in a blistering 11.171 seconds(track record 11.095)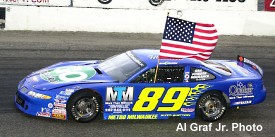 This starts him last in the dash,which he used as a test session for the 65 lap main.
In the feature event,fast means last,and thats where Brad started,but he charged thru to a second
place finish and sits 2nd in points.

(5-11-03) Slinger Speedway cancels their program due to lousey weather.See ya next week!

(5-18-03) Slinger Speedway Alan Kulwicki,who was a 2 time Slinger Champ and 1992 WC Champ
was remembered tonight with a 75 lap feature,and Brad Mueller and the BMRE gang took top spot
in timing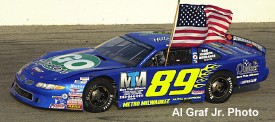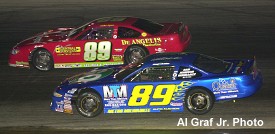 and followed that up with a last lap pass of Mike Egan and a win in the Feature.
After Sunday's races,Brad holds a 162-131 point lead over David Prunty.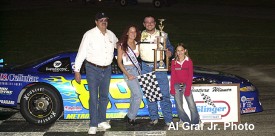 ((5-19-03) Brad Mueller announces his Memorial day weekend plans.He will start out Thursday
the 22nd at Wausau for the Flip Merwin Memorial race,then back to the Slinger Speedway for
E.H Wolf night,and follow that up monday with a trip to Golden Sands for the WCS Race.
If Slinger raindate of monday is used,Golden Sands is a no go.

(5-22-03) State Park Speedway ,Wausau Flip Merwin Memorial Race.
Brad and the gang haul the Go Wireless Sid's Racing Dodge Intrepid to honor their friend
after his fatal snowmobile accident this past winter,and as Brad lined up to race the mighty
mopar,he heard a shout,"that thing got a hemi?" Well.....as much tire smoke as it was spewing,
it could have had one..Brad overgeared the car and basically missed the set-up,but as he told
this writer,i was there for Flip...8th in time,5th in the heat,8th in the feature.

(5-25-03) Slinger EH Wolf Memorial day special,Brad times in 4th,takes the win in the trophy
dash,and in the 80 lap main,gets tangled up in an early mishap...suffers rear body damage,but
continues on 'til he is black flagged late in the race ..end result....11th place after review:)

(5-26-03) Golden Sands Speedway,Plover WI WCS event,great weather...great racing,and Brad
times in the mighty Mopar 8th,and spins his Good Years to a solid 6th place in the main.