BMRE June 2003 News and Results

(6-1-03) Slinger Speedway Al Schill Memorial 70 . Brad and the BMRE Team start the night
1 point out of the lead,and lose fast time 11.287-11.269 to David Prunty.
In the 70 lap main,Brad quickly moves into the top 5...and after a couple of restarts,tries Dave
Teske high and low and while on the outside of the 51 car,Dave slipped up coming into 3,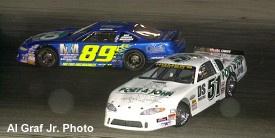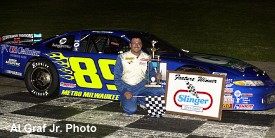 and after slight contact,Brad moved into the lead.In the closing laps, a fast approaching 14
car of Al Schill Sr closed in but ran out of laps as Brad won by a car length..and took the point lead.

(6-8-02) Slinger Speedway Cancels tonights program as nasty weather persists in the tri county area

(6-14-03) WIR/Kaukauna RED Race of the Red White and Blue series,Brad hauls the Hemi to the
historic half mile for the first time in 2003 and avoids a few mishaps and steers home to13th and 12th
place finishes after timing in 9th quick.

(6-15-03)Slinger Speedway Brad times the sleek blue Pontiac in Fast with an 11.419,takes 8th in the
dash,and in the 65 lap main,starts in the rear and moves up to a fifth place finish and remains top in
the point standings.Bryan Enders from Enders Construction will be adding $5,000 to the winner
of the feature next week.....stay tuned!!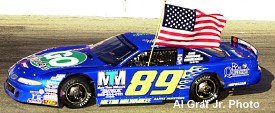 (6-22-03) Slinger Speedway Enders/Ritter night...Brad times in 3rd quick,takes 7th in the fast dash,
and after going to the rear in the 75 lapper..charges back to a 5th place finish and leads Lowell Bennett
in the point standings going into the Fireworks night at Slinger.

(6-23-03) Brad will be attempting to make the Milwaukee BGN race this weekend in the Havil Spoerl
#67 Ford Taurus... a team car to Jason Schuler....come and cheer him on!!(Qualifying rained out,
No Points..no show:(

(6-29-03) Slinger Speedway 85 lapper complete with fireworks. Brad toured the 1/4 mile bull ring
6th,followed that up with a 5th in the fast dash..and in the main event,Bradley showed why they
are chasing him..as he took a pushy race car and adjusted his line....fended off a determined Al
Schill and won the 85 lapper. Brad holds a 466-404 point lead over David Prunty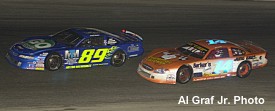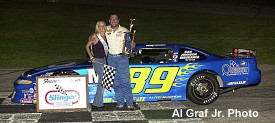 Brad Mueller and the BMRE gang send their condolences to the Dan Lison Family.
Dan was a partner in Go Wireless..the main sponsor on Brad's cars...he will be missed.