(5-29-05) Slinger Speedway. Memorial Day Special, 80 laps, alot of invaders to the track, and the rain holds
off. Brad starts out timing an 11.319 for Fast Time. In the dash, he took 6th. In the 80 lap main, a charge to the
front was rewarded with a runner-up finish, a good point night as the 89 team is 11 out of first in 3rd place.

(5-22-05) SLINGER SPEEDWAY. AK7 Memorial Night at the speedway, and all starts well as Brad times
2nd with an 11.387(smokin'). In the main however, sometimes defense is more important, Brad got caught in a
melee and the end result, alot of work on the car this week and 19th in the main.BMRE89 sits 5th in points.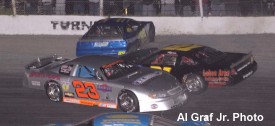 (5-15-05) Slinger Speedway. Al Schill Jr memorial night, and Brad times 4th quick at 11.392. He follows it
up with a second in the fast dash. In the main, a smooth ride to the front nets a 3rd place finish, 3rd in points.

(5-8-05) Slinger Speedway. Wow, it was like 70 degree's warmer than a week ago, and the action was HOT.
Brad guided the 89 car to fast time,and followed it up with a 5th place run in the main event. Night racing starts
next Sunday TT 545 Racing @7




(5-1-05) SLINGER SPEEDWAY. Season opener held in weather more suited for eagle River Sled racing,
Brad turns a 11.4 in timing, and drives to a 2nd place finish in the 75 lapper before the 3rd snowstorm of
the day hit.Weekly racing starts May 8th in the afternoon, TT at 1:00 Racing at 2



(4-23-05) SLINGER SPEEDWAY HAS BEEN POSTPONED 1 WEEK,April 30th practice day,May
1st opener,see you there!

(1-8-05) Washington County Fair Park. Brad Mueller and team BMRE,sponsors and friends gathered
as Slinger Speedway crowned Brad 2004 Champion.The night started as a social gathering,a meal,a few
brewski's...then the hardware was dished out.Here are a few pictures from the event.









(2-27-05) Random Lake,USA.Busy place that BMRE89 shop...2 Late Models and a dirt car getting
prepped for the 2005 season.Look for Brad at Slinger,Plymouth and select MARS and SSS races.
Carnage Cruise and shop pics also added!