(8-1-04)Slinger Speedway 60 lap Pioneer night and the MTM MSS Pontiac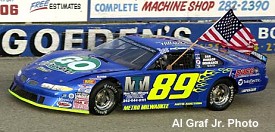 looks sweet carrying the colors again.In the dash...6th..in the main,Brad
starts in the rear and moves up,avoids a big wreck late and 5th was the
result.Brad leads Dave Feiler 727-669

(8-8-04)Slinger Speedway. Miller Night at the raceway(pronounced same as Mueller)
and Brad times in 5th,takes 2nd in the fast dash.In the 60 lap main,20 laps into the
main a 4 car battle with Bradley running 3rd,lap after lap getting tagged the 89 car
is moved up and a side by side battle ensues with the 93 car.Brad gets knocked back
to 4th for 1 lap, but returns the favor and finishes 3rd,and maintain a 789-720 lead.

(8-15-04) Slinger Super Speedway.Pomps night at the track,a killer blow up monster truck and all.
Brad times the Pontiac 6th,which means pole of the dash and a easy win.In the 65 lap main,she
was a battle and Kid Mueller followed David Prunty across the line in 2nd.With Dave Feiler having
a rare off night in the main,the lead has grown to 861-753.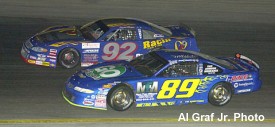 (8-22-04) Slinger Speedway AK Memorial Night.On a night to honor the late great Alan Kulwicki,
Brad started out second quick at 11.355...took 3rd of 6 in the dash...all seemed well.
In the first of 2-50 lappers,the first being points and $$$,the 89 pilot started deep and charged up
to challenge for the win but with 2 laps to go he slowed suddenly and a vibration was in progress.
The team decided to park the Blue Beauty and rip it apart this week...so a DNS on race 2.

(8-29-04)Slinger Speedway Behling CTE and EH Wolf Night. A 65 and 30 lapper.Brad starts
out 2nd in time with an 11.340.In the dash,6th was the result.Now to the 65 lapper...starting
deep in the field he paces himself towards the front only to get spun out,sent to the rear,yet
rebounds to a 7th place finish.In the 30 lap race of champions,Brad started 5th and got a
3rd place in the race.He holds a 962-902 point lead with 2 to go!!

(9-5-04) Slinger Speedway Port a John Night..100 lapper...points race....Brad starts out 2nd
in time with an 11.362...follows it up with a 6th in the dash.In the main,a smooth ride thru
the field results in a 3rd place finish..beating the 93 car by a few spots BMRE leads 1028-952.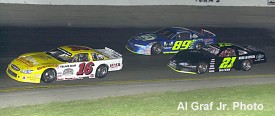 (A Port a John is a toilet with no pipes)

(9-12-04)Slinger Speedway. Brad breaks a flywheel in the 89 but is the 2004 season
champion in the Blue Bullett.The team is planning on Rockford the 25th/26th.

(9-26-04)Rockford NSTC. A great race turned into disaster for the 89 bunch.Starting
second in the 250 lap Sunoco Super Series Race,The 89 car dominated the event for
220 laps,but a slide job off turn 2 by Eddie Hoffmann put Bradley in the marbles and
a top finish was not to be.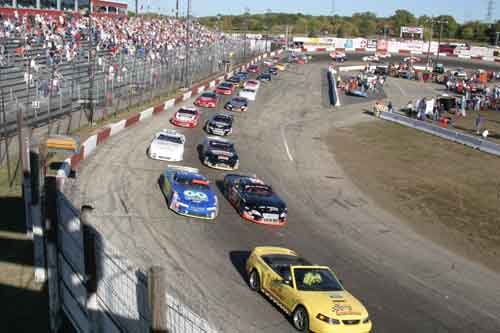 | | | | | | | | | | |
| --- | --- | --- | --- | --- | --- | --- | --- | --- | --- |
| 1 | 6 | 8 | | Eddie | Hoffman | Wheaton, IL | Lisa Thomas Salon/M. R. Lee Building Material | 250 | Running |
| 2 | 1 | 38 | R | Steve | Moenck | Mokena, IL | Lisa Thomas Salon/Hoffman Collision/Appleton | 250 | Running |
| 3 | 10 | 51 | | Brian | Hoppe | Verona, WI | Gilden Activewear/Star Motorsports | 250 | Running |
| 4 | 15 | 61 | | Steve | Rubeck | Cherry Valley, IL | K & V Hardwood/PSR Chassis/JamR Racing Engines | 250 | Running |
| 5 | 20 | 138 | | Brian | Johnson Jr. | South Beloit, IL | Wireless One/Legend Racing Engines/Terry's Signs | 250 | Running |
| 6 | 2 | 89 | | Brad | Mueller | Random Lake, WI | Mueller Motorsports | 250 | Running |
| 7 | 8 | 87 | | Nathan | Haseleu | Pardeeville, WI | He & She/Cornett Engines | 250 | Running |
| 8 | 13 | 2 | | Ryan | Mathews | Lake Geneva, WI | Kunes Country Ford | 250 | Running |
| 9 | 19 | 01 | | Ron | Breese Jr. | DeKalb, IL | P & R Auto Body/Voyles Racing | 250 | Running |
| 10 | 22 | 9 | | Tommy | Pecaro | Janesville, WI | Wegner Automotive/Pre-Image Graphics | 250 | Running |