BMRE August 2003 News and Results

(8-3-03) Slinger Cancelled due to rain.....we'll do it again next sunday

(8-10-03) Slinger Speedway. Round 3 of the Coca Cola Challenge Series,and Bradley starts off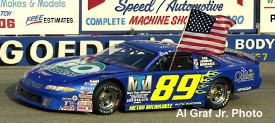 with fast time with an 11.505,takes 4th in the fast dash,and in the 50 lap mains,charges to the
front and finishes 2nd in both to take the Coca Cola Championship,a 3 race series within the
season point battle.Brad also leads Al Schill and David Prunty in the Points.

(8-17-03) Slinger Speedway. Team BMRE starts out 6th in time,takes 3rd in the Fast Dash.
In the 75 lap main,its a battle,and Brad Guides the Blue Bullet to second place,second to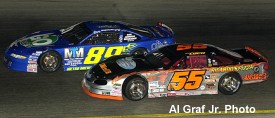 Al Schill...the end result....Albert cuts into the points lead..841-766.Its gonna be a fight!!

See you at Madison for the Second Round of the Nationals!! Tuesday 8-19..Be There!!

(8-19-03) Madison Int Speedway. Round 2 of the Nationals,and Brad returns to the 1/2 mile
for the first time since 1996,complete with the Yeller Hemi,and actually has a good race car,
but a stuck fuel check ball caused a black flag for a fuel leak,which was quickly fixed but in
the time on pit road,Brad lost a lap...finished running with the 6th-8th place cars,but 12th
out of 30 cars was the payout...8th overall in Nationals Points.Next up.....the chase for the crown!!

(8-24-03) Slinger Speedway.Point Leader Brad Mueller makes it back to the world's fastest 1/4
mile after a night of sprint car racing,and starts out strong with an 11.537 lap,good for 5th quick.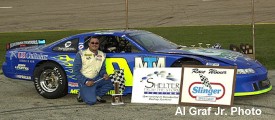 In the fast dash,The BMRE Blue Pontiac charged to a win.In the 75 lap main,Brad moved to the
front and managed another second place finish,and increased his lead in the points 913-818.

(8-31-03) Slinger Speedway. Port-A-John 100 lapper,fireworks and all...and Bradley starts out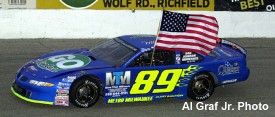 quick with fast time,takes 8th in the fast dash. In the 100 lap main,Brad gets pushed to the rear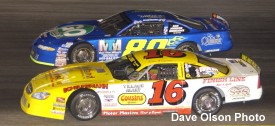 and fights back,makes a thrilling move late and the result.....win #5 of the 2003 season.
The interview afterward was great talking about 1993,10 years ago that Brad raced his last season
on dirt,and bought a car from Robbie Reiser. With the problems the 14 car had in practice,
Brad looks to have a great shot at the 2003 track title to go with the twin 75's and Coca Cola
crowns already in the books!!