April 2003 News and Results

(3-14-03)BMRE and driver/owner Brad Mueller launch their new website
complete with pictures,news and more.The team is prepping a new Pathfinder
for the 2003 season with a new MC outlaw body.Stay tuned for news and more!

(4-12-03)DELLS Motor Speedway WCS Opener..Brad driving the Yellow Go Wireless
#89 car starts 10th after posting the 5th fastest lap at the 1/3rd mile raceway.
A strong battle between Brad,Erik Darnell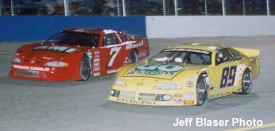 and a host of others
kept thebig crowd cheering and the 89 car came home with a 6th place finish,5th in the WCS standings
and a chance to get the Grand Prix ready for the Slinger twin 75's sunday April 27th.

(4-27-03)Slinger Super Speedway. A new car,a new year,a new surface and the 89 car starts out
the 2003 Slinger opener 5th quick,follows that up with a fast dash win. In the first of 2- 75 lappers,
Brad takes the win over Tony Strupp
In the second 75,Brad started in the back and came thru for a 5th place finish,and the overall title!!